Ultimately, the grand entrance hall design sets the right tone for the rest of the home and can help to "wow" the guests and invite them inside. Here are some incredible ideas of elegant and stylish entryways crowned with beautiful stained glass domes and decorative glass ceiling lay lights
The large leaded glass skylight in Scarsdale, NY fills the double-height entry with light. Space is bright and open with the chandelier suspending down through the center of the hall from the stained glass ceiling. Interior design by Granoff Architects
Imagine light and airy house with a large stained glass domed skylight. The entrance hall that doubles as a great room filled with delicate elusive colours of the custom stained glass skylight
Inspired by the historical decorative glass ceiling of The Plaza Hotel in New York, the stained glass dome Bridle Path reflects the aesthetic of the house.
Hand-forged wrought iron railings, high-gloss marble floors give the space their signature classical style
A stained glass dome skylight crowns the soaring double-height ceiling. The wrought-iron railings and plaster-work mouldings create a rich and ornate space with dramatic illumination
The interior designer Timothy Mather enhanced the double-height entrance hall of this gorgeous private residence in Waterloo, Ontario with the blue and clear large geometric leaded glass skylight and oval stained glass dome. Chandeliers preside over the entrance hall and stairwell
Natural light is the best type of light for opening up the foyer and making it seem bigger and more spacious. A large-scale leaded glass skylight commands attention and illuminates the stairwell with the light making the space appear larger
The most personal touch of all for a stylish entryway is a work of art that tells something about the hosts' tastes and personalities. The space is bright and opened with minimalistic stained glass skylight design.
Enormously large stained glass dome for a 2 story height grand entrance foyer
Kate Abt designed this classic entry staircase that feels timeless
The beautiful design of the stained glass dome immediately attracts the eyes of the visitors and the decorative appeal of the leaded glass skylight is enormous. Custom stained glass domes add incredible lighting effects and uniqueness to the interior. In classic interiors, the atmosphere of luxury and sophistication is enhanced by spectacular dome skylights. Modern homes also take advantage of this type of arches. Smaller or bigger, modern, minimalist or spectacularly decorated, there is no doubt, that stained glass dome skylights will always be one of the most spectacular features in any home.
Amedeo Barbini, Leaded glass skylights for the central hall and stairs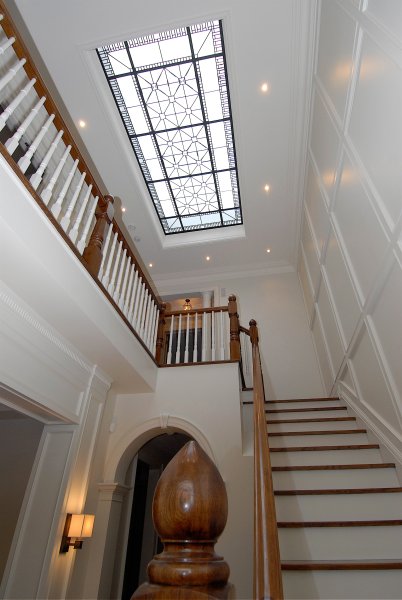 Thank you for reading 15 Grand entrance foyer ideas with stained glass domes. Please leave your comments and share it on social media!
Pacific Heights, a set of stained glass windows & stained glass skylights for the historical house in San Francisco
Summary
Article Name
15 Grand entrance foyer ideas with stained leaded glass dome ceilings
Description
15 interior design ideas for a grand entrance foyer with stained leaded glass domes and decorative glass ceilings
Author
Publisher Name
Victoria Balva Glass Studio
Publisher Logo